Applications Open
Join The Preuss School academic community! Applications for new scholar enrollment are currently open for Fall 2024. Submissions accepted through Dec. 16.
Apply today

Celebrating Commencement
This June we honor the accomplishments of the Class of 2023, 94% of whom have been accepted to a four-year university.
Read about our outstanding seniors

Ranked #1
U.S News & World Report named The Preuss School UC San Diego the top high school in San Diego County in 2022.
Read the story

Volunteer
Volunteer tutors and mentors play a significant role in our students' success. There are many ways you can make an impact.
Volunteer with Preuss
Previous
Next
The Preuss School UC San Diego is a unique charter middle and high school for low-income scholars who strive to become the first in their families to graduate from college. Located on the UC San Diego campus, nearly 100% of graduates of The Preuss School go on to higher education. Recognized as the best high school in the county by U.S. News & World Report, we are empowering scholars, elevating families and transforming communities.
The Preuss Promise
At The Preuss School UC San Diego, we have made a promise to prepare low-income, first-generation students to succeed in college and career. We do this through a unique partnership with a world-class university, longer learning times, experiential internships and a college mentorship program.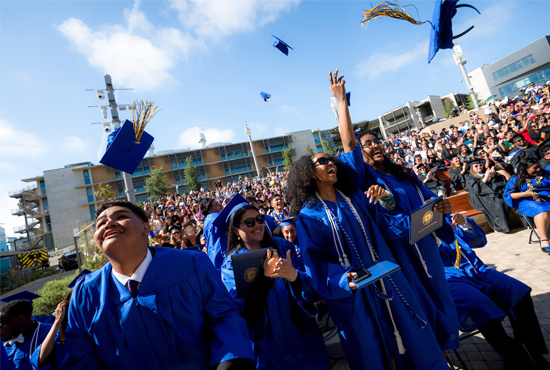 Congrats Class of 2023!
This year 94% of scholars from The Preuss School were accepted to a four-year university, all of them the first in their family to attend college. A special celebration was held in June at the Epstein Family Amphitheater, a new 2,650-seat, open-air venue that recently opened at UC San Diego. We are so proud of each of our scholars; read more about them in this feature story.
Featured Links
Academics:
Publications:
WASC Compliance:
 Charter Compliance:
Special Education (SELPA) Hearing Notice
Board Info:
Events
December 6

School Site Couincil Meeting

December 7

Board of Directors Meeting

December 9

PTA General Meeting
Saturday Enrichment Academy

December 12

PTA Executive Board Meeting

December 14

Homecoming Game

December 15

Middle School Social

December 18- January 1

Winter Break- NO SCHOOL