Teacher Selected to Attend 2015 National Gallery of Art Institute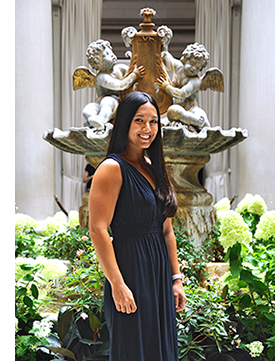 Marsha Greco, an educator at The Preuss School UC San Diego in La Jolla, CA was selected as one of only 51 participants of the 2015 National Gallery of Art Teacher Institute on Art of the Renaissance held in Washington, D.C., in July and August of 2015. The six-day seminar brought together teachers of art, English, history, math, and related subjects from 25 states. The program emphasized the social and cultural context of Renaissance art in Italy and Northern countries between the 14th and 16th centuries. The term Renaissance, meaning "rebirth," refers to the humanistic revival of classical culture and learning with its underlying belief in the creative potential of humankind. Participants studied works by leading Renaissance artists as represented in the Gallery's permanent collection, including the painters Leonardo da Vinci, Raphael, Titian, Jan van Eyck, and Rogier van der Weyden. Participants learned about the development of oil-painting techniques, the role of prints in disseminating new ideas, using works of art as primary resources in classroom instruction, incorporating art into interdisciplinary teaching, and strengthening students' visual literacy.
Through lectures, gallery talks, and hands-on activities, participants analyzed Renaissance artworks and focused on interdisciplinary teaching strategies. Activities were designed to meet teachers' personal and professional enrichment needs. A demonstration of Venetian painting techniques and a site visit to a printmaker's studio at Georgetown University rounded out the Institute's course of study.
Generous support for the Teacher Institute was provided by the Park Foundation, the William Randolph Hearst Foundation, the Sara Shallenberger Brown Fund, the Anthony Quinn Foundation and National Hellenic Society, and the Annetta J. and Robert M. Coffelt Sr. and Robert M. Coffelt Jr. Endowed Fellowship.
Teacher Institute 2015
For more than 25 years the Gallery's Teacher Institute has offered educators the opportunity for intellectual renewal and professional exchange with colleagues in a museum setting. To date, approximately 2,600 teachers have participated in the program. To learn more about the Teacher Institute, visit www.nga.gov/teacherinstitute
The Teacher Institute is a program of the Gallery's division of education, which produces and distributes instructional materials on a free loan basis to schools throughout the nation. To learn more about other educational resources of the National Gallery of Art, visit the Gallery's Web site at http://www.nga.gov/content/ngaweb/education/learningresources.html
General Information:
The National Gallery of Art and its Sculpture Garden are at all times free to the public. They are located on the National Mall between 3rd and 9th Streets at Constitution Avenue NW, and are open Monday through Saturday from 10:00 a.m. to 5:00 p.m. and Sunday from 11:00 a.m. to 6:00 p.m. The Gallery is closed on December 25 and January 1. With the exception of the atrium and library, the galleries in the East Building will remain closed until late fall 2016 for Master Facilities Plan and renovations. For information call (202) 737-4215 or visit the Gallery's Web site at www.nga.gov. Follow the Gallery on Facebook at www.facebook.com/NationalGalleryofArt, Twitter at www.twitter.com/ngadc, and Instagram at http://instagram.com/ngadc.