Ensuring a Well-Rounded Education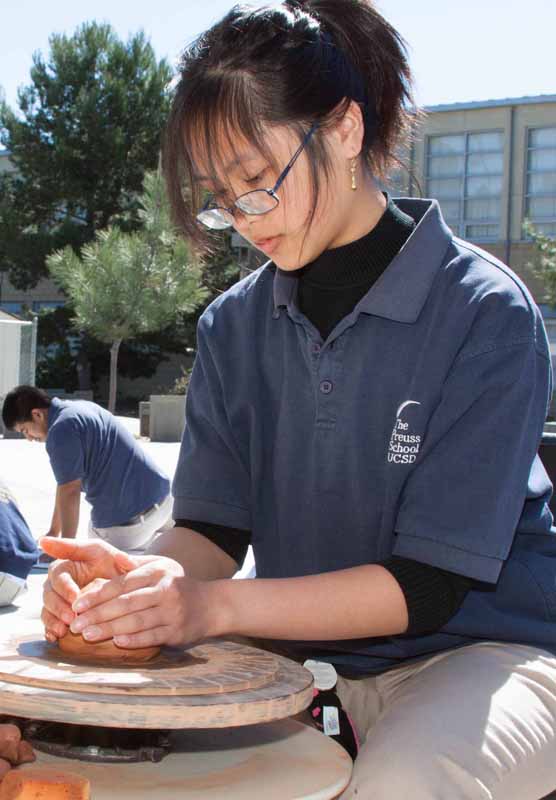 Art, music and physical education. These subjects are increasingly cut from other schools yet have been shown to improve students' educational experience and can lead to greater academic achievement. For example:
Students who had arts-rich experiences in high school showed higher overall GPAs than students who lacked those experiences.
Students who study music 50 minutes per day outperform their peers on math tests.
Even just 20 minutes of recess or physical activity is proven to help students focus in class and perform at higher levels.
At Preuss, physical education and the arts are an important part of our curriculum and thanks, in part, to unique collaborations and partnerships, we are able to offer our students a truly well-rounded education.
UC San Diego's Division of Arts and Humanities offers an immersion program that was created in collaboration with Preuss. Through the program, Preuss students have the opportunity to participate in tours, conversations with artists, internships and are provided with free tickets to UC San Diego concerts and plays.
With funding from the Picerne Foundation's Artist Outreach Program, artists like Barbara Gothard are able to work with our students to create sustainable art projects that were later exhibited at downtown San Diego art gallery Space 4 Art.
Established in 2005, Villa Musica offers group classes, workshops, ensembles and individual lessons in everything from cello and guitar to singing. Thanks to a gift from Peter Gourevitch, UC San Diego professor emeritus and a founding board member of both Preuss and Villa Musica, several Preuss students have been provided with scholarships to take classes at the nonprofit the past two years.
Preuss offers opportunities to participate in girl volleyball and boys and girls soccer, lacrosse, basketball and cross country. Many UC San Diego student-athletes volunteer to coach our teams or run clinics.
Thanks to a partnership with Access Youth Academy, Preuss has the best urban squash team in the nation, and our students earn scholarships to play squash at prestigious universities. In addition to learning to play the sport, the squash program also engages students in academic tutoring and community service.
The Preuss fitness center is available for use by all middle and high school Exercise and Health Science students, high school student-athletes and faculty and staff. The center was made possible thanks to generous gifts from the Walter M. Milford Foundation, the Kinder Foundation, Loew's Toolbox for Education, Carol M. White Physical Education Program and the UC San Diego Fitness Center.