The Campaign for Longer Learning Time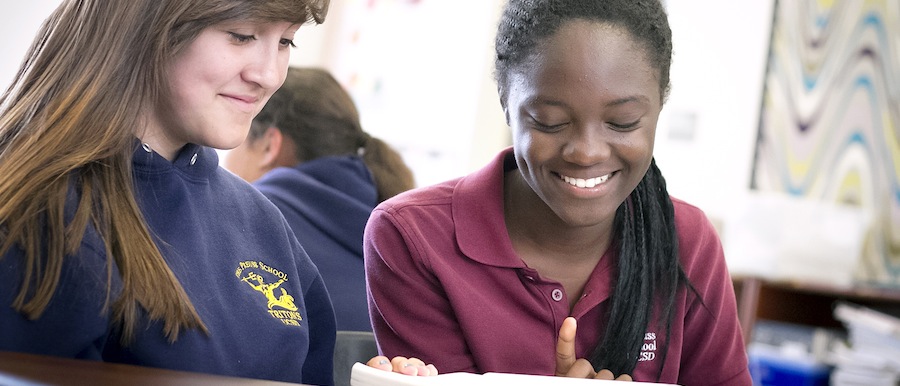 At The Preuss School UC San Diego the impact of more and better learning time can be seen firsthand. We employ a variety of research-based best practices proven to help prepare low-income students to be first-time college attendees. A longer school day and school year is one of these key practices. Our students are in school longer each day and for 18 days more than the typical student in California. Preuss logs 74,669 instructional minutes each year compared to the state requirement of 64,800. As a result, after completing middle and high school, our students have accumulated almost an entire extra academic year.
To ensure that future Preuss students have the same opportunities, we have launched a multiyear Campaign for Longer Learning Time. Through the campaign, you can support the longer school day and year at Preuss by making a gift to the Preuss Longer Learning Time Endowment. Your gifts will help fund or endow the extra days of instruction that are not covered by the state. Gifts of any size will make a difference to our students and ensure that the transformative power of a Preuss education is available for generations to come.
give now
What does more time in school mean for our students? It means we can:
Develop an environment where students are challenged academically and empowered to think critically.
Teach core subjects like math and reading without losing out on subjects like science, history and foreign language.
Offer art, music and physical education—subjects that are increasingly cut from other schools yet have been shown to improve students' educational outcomes.
Offer an array of academic support such as tutoring, mentoring and counseling.
Empower our teachers, giving them more time for professional development through collaborating and reflecting with their colleagues.
Create more well-rounded students by giving them the chance to participate in internships and community service projects.
Does longer learning time have an impact? The results speak for themselves.
All 96 students in the class of 2013—Preuss' tenth graduating class—were accepted to a four-year college or university. This was a milestone for our school, which already boasted a 90 percent or higher acceptance rate for each graduating class.
Almost 100 percent of Preuss graduates go on to some form of higher education.
Many of our more than 850 graduates have gone on to attend colleges and universities such as Harvard, Yale, MIT, Stanford, Columbia, Cornell and Dartmouth as well as all of the schools in the University of California system.
The Preuss School has been named the nation's top "miracle high school" by Newsweek magazine, and given the number 1 spot in the magazine's list of "transformative schools" for the third consecutive year.
Preuss was also named a top charter school in California in a 2013 report released by the University of Southern California's Center on Educational Governance.
Contributors to the Preuss Longer Learning Time Endowment have the following primary opportunities to make a tremendous difference:
Invest $20,000 to fund one extra day of instruction
Invest in a $500,000 endowment to fund one extra day in perpetuity
You can also make a gift of any size. Every gift will make a difference, especially when pooled with the gifts of others. With your help, we will ensure that the transformative power of a Preuss education is available for generations to come.

give now

Questions about the Campaign for Longer Learning Time? Please contact Stephanie Venti at sventi@ucsd.edu or (858) 822-4239.