Student Stories Awaken an Artistic Renaissance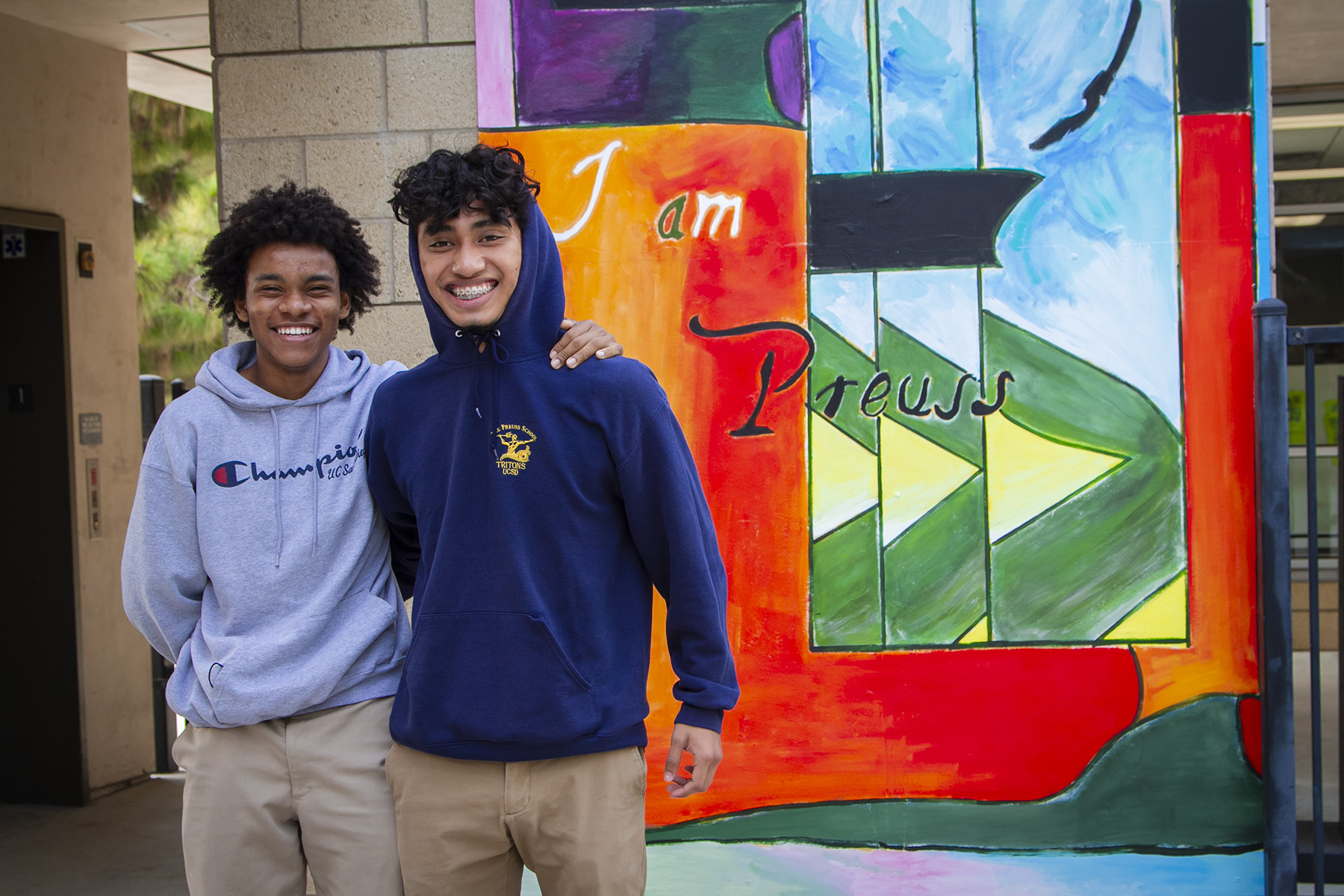 A new series of murals depicting powerful narratives have transformed The Preuss School plaza. Over the summer and fall of 2021, high school students in Studio I and II art classes designed and painted more than a dozen murals, collectively titled "We the People, I Am Preuss." The works tell stories of hardship and perseverance, opportunity and hope.
It was a profound process for the students, explained Fine Arts Chair and Visual Arts faculty member Tamima Noorzay. The mural project had been part of a longtime plan to brighten the campus and engage students by seeing their personal experiences represented. The opportunity to paint and express was ultimately therapeutic, allowing students to reconnect after spending time learning remotely. The final mural has improved the Preuss community culture exponentially, said Noorzay.
The project was made possible through a partnership with artist Jay Wolf Schlosberg Cohen, who presented virtual workshops each month. He first guided scholars in writing about their ancestry, what their current life is like as well as how they envision their future and contributions they intend to make in their community.
When they were ready to bring their story to life, Schlosberg Cohen help translate their ideas into visual form. In an ode to the Renaissance era, these images were projected on hardiebacker boards in The Preuss School plaza where students painted them. Each individual vignette features a scholar's portrait, a short quote or narrative and accompanying visuals to represent their lives.
For senior Liam Rodriguez, creating the mural was a chance to reflect on the struggles of immigrants. His family joined him in creating the piece, adding additional meaning to the project.
The mural is supposed to represent barriers that a lot of people face, explained Rodriguez. In this particular mural, with the help of my family and Mr. Jay Schlossberg-Cohen, we created a desert. The desert is usually where a lot of immigrants have to cross through. It's a struggle, and a lot of people have died in an attempt to make it to a nearby city.
Rodriguez also painted himself in one of the panels playing a guitar, which is a longtime passion of his. He first picked up the instrument when he was 7 years old and has considered pursuing a career as a teacher or producer. Rodriguez is also drawn to the field of surgery, where he can make a difference in the lives of others. The idea was motivated by words of advice from his grandmother, who died from cancer.
The murals have generated a special energy on campus. Students surround them during lunchtime, a chance to acknowledge and reflect on their peers' stories as well as see themselves represented in an affirmative, colorful way.