Professional Skateboarder Speaks at Preuss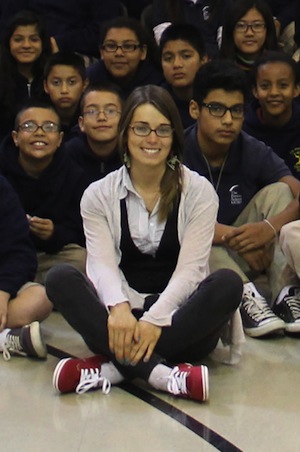 Amelia Brodka with Preuss students
Professional skateboarder and filmmaker Amelia Brodka spoke to approximately 100 Preuss students recently. A self-proclaimed "skateboard addict," Brodka was born in Poland and grew up in New Jersey where she benefited from a program called New Jersey SEEDS (NJ SEEDS). NJ SEEDS is a privately funded, nonprofit organization that changes the lives of motivated, high-achieving students from low-income families by transforming their educational opportunities.
Brodka share her story and showed clips from her feature length documentary "Underexposed – A Women's Skateboard Documentary" and encouraged students to attend EXPOSURE: A Women's Benefit event that she coordinates.
"My goal is to inspire youth to pursue their dreams despite obstacles or prescribed societal standards," said Brodka, a University of Southern California graduate. "I went through a program similar to Preuss called NJ SEEDS. I could not imagine where I would be today if it were not for NJ SEEDS."
For more information on Brodka and her documentary, visit www.ameliabrodka.com.