Recognized by Newsweek as the top transformative high school in the nation for three years in a row, The Preuss School UCSD is a unique charter middle and high school for low income students who strive to become the first in their families to graduate from college. With nearly 100 percent of our graduates going on to higher education, Preuss shapes more than minds, we shape futures.
News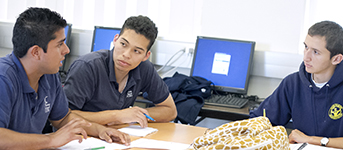 The Washington Post ranked Preuss one of the most challenging high schools in California and #39 in the nation.
Krista Bartlett Named Educator of the Year by Local Rotary
The chair of the Learning Resources Department was presented with a plaque and $1,000 award by the La Jolla Golden Triangle Rotary Club.
U.S. News & World Report ranked Preuss 9th in California and one of the top 100 high schools nationally.
Events
May 27, 2016
PTA Staff Appreciation Breakfast
May 30, 2016
NO SCHOOL-Memorial Day Holiday
June 1-2, 2016
Senior Exhibitions
June 3, 2016
Middle School Social
More Events...