Preuss Students Get an Inside Look at Chamber Opera
By Dirk Sutro, UC San Diego Department of Music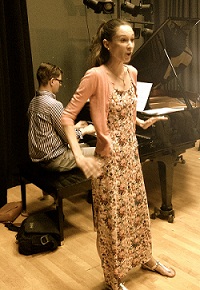 In a deep baritone, graduate student Vincent Fung sang "Mack the Knife" to students from Natasha Ippolito's theater class, who were gathered onstage in The Preuss School auditorium. The song is generally known as a pop standard sung by Louis Armstrong, Ella Fitzgerald, Frank Sinatra and other greats. But the class soon learned that it was written by Bertolt Brecht and Kurt Weill for their politically charged Threepenny Opera, which premiered in Berlin in 1928.
Fung's performance was part of the UC San Diego Division of Arts and Humanities' Arts Outreach Program, designed to provide students from Preuss and other San Diego schools with first-hand experiences of the arts. Over the past two years, they have attended plays, concerts and gallery exhibits. Now, they were learning about the Threepenny Opera from soprano Susan Narucki of UC San Diego's music faculty and singers from the opera's cast who are working toward graduate degrees under Narucki's mentorship.
The visit included performances by Narucki, pianist Kyle Adam Blair, and singers Fung, Hillary Young and Kirsten Wiest, as well as the stories behind Brecht-Weill's original version and the new version performed at UC San Diego and set in 2017. Preuss students seemed fascinated to learn how an opera with upbeat songs such as "Mack the Knife" was actually a dark commentary on corrupt government, oppression and archaic ideas about gender roles: themes that are as relevant today as they were in the 1920s.
Following the lecture and performances, students clustered around Narucki and the cast. They spoke about their own ambitions as artists and they heard stories about the making of an artist: the value of an arts education; early careers that can consist of obscure gigs for small pay but with large creative rewards; and the demanding but satisfying work of the professional performer.
As the students filed out of the auditorium, it was obvious that their interest had been piqued. Many took Narucki up on her offer of free tickets to a performance.