Celebrate the Preuss Promise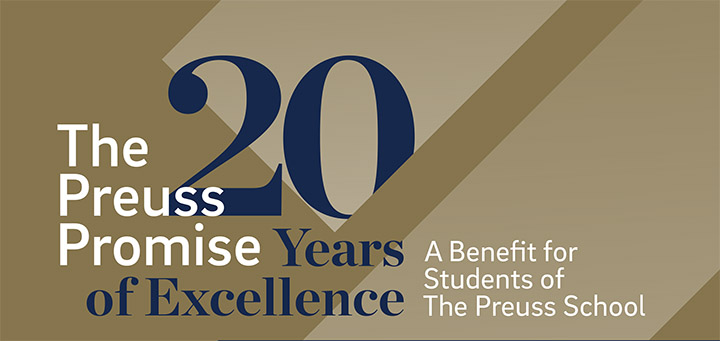 The Preuss School UC San Deigo, now entering its 20th year, has been committed to developing thinkers and problem solvers, confident colleagues and citizens for two decades. Our annual benefit, The Preuss Promise, helps ensure that we can continue to expand our impact, providing a transformative Preuss education to students from local underserved neighborhoods who seek to become the first-generation college students.
Please join Chancellor Pradeep K. Khosla for a festive, inspirational celebration of 20 years of connecting promise with possibility, benefitting the students of The Preuss School.
Friday, April 20, 2018
6 p.m. Cocktail Reception featuring Preuss Student Exhibitions
7 p.m. Dinner, Keynote Address and Raise the Paddle
Cocktail attire
To RSVP, please email 
preusspromise@ucsd.edu
or call (858) 534-1404.
Jacqueline Kennedy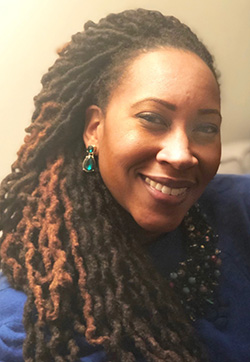 Jacqueline Kennedy is a second-generation San Diego native and one of the first students in The Preuss School UC San Diego's first graduating class in 2004. She went on to attend UC San Diego, where she was involved in student life and committed to community service. She later cultivated her love for community as an intern at the Jacobs Center for Neighborhood Innovation, a nonprofit organization in Southeast San Diego, CA.
 Becoming the first in her family to graduate college, Jacqueline found many opportunities to grow her knowledge and experience in communities and eventually moved to New York City to pursue a master degree in Nonprofit Management and Policy at the NYU Wagner School of Public Service. During her first semester, she interned at the national non-profit organization, Community Solutions, Inc., working for the Brooklyn neighborhood initiative, Brownsville Partnership. At the Brownsville Partnership, Jacqueline coordinated all community outreach and engagement strategies for the organization. Earning a trusted place in the Brownsville community and a leader within the initiative, Jacqueline stepped into the role of Interim Director in 2015.
After six years of serving the Brownsville community, Jacqueline joined the New York City Department of Health and Mental Hygiene as the Director of Community Partnerships at the newly formed Center for Health Equity. Here, she works to establish the agency framework for engaging NYC neighborhoods with specific emphasis on racial and social justice.
Tickets: $525 per ticket ($425 tax-deductible)
Table: $5,000 per table ($4,000 tax-deductible)
Program Sponsor
Valet Sponsor
Student Installations
Anonymous
Event Sponsors


Darcy and Bob Bingham
Chancellor Pradeep K. Khosla
If you are interested in becoming a sponsor, please contact Stephanie Venti at (858) 822-4239 or sventi@ucsd.edu.
Honorary Committee
Matthew F. Weil, Event Chair
Peggy and Peter G. Preuss, Honorary Committee Chairs

K. Andrew Achterkirchen
Darcy and Bob Bingham
Mae Brown
Julia Brown
Amy Chiu
Maureen Dulbecco
Bob and Ann Dynes
Anne Evans
Walter Eckhart and Karen Lane
Celia Falicov and Peter Gourevitch
Peter and Olivia Farrell
Antonio Grillo-Lopez and Maria Grillo
Joan and Irwin Jacobs
Sheri Jamieson
Erica Pascal and Michael Hostetler
Erin and Peter J. Preuss
Sheryl and Bob Scarano
Christopher and Pat Weil
Matthew F. and Svetlana Weil
For questions or to RSVP, please email preusspromise@ucsd.edu or call 858-246-0372.