Dr. Kerri Mowen Memorial Scholarship

"I remember sitting on my Dad's lap when I was three or four and him telling me that I was going to be the first woman President. Because of that, I never thought there was anything that I couldn't do."
- Kerri Mowen, Ph.D.
Kerri Mowen did not run for office. Instead, she discovered what would become her true passion in life: science. Kerri's teachers recall a student with insatiable curiosity, a love of learning and a desire to achieve depth in her understanding. Kerri's goal in any classroom was not to earn an A, but to leave the room with more knowledge. She raised her hand, asked the questions, stayed after school to learn more and inspired her peers.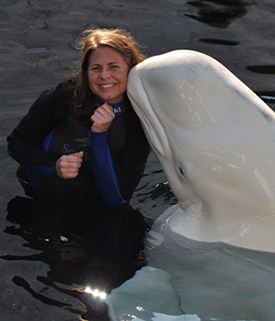 Kerri Mowen Ph.D.
Kerri went on to study Biology at Southern Illinois University, Carbondale, followed by graduate school at the University of California, San Diego. Practically living in the lab, Kerri completed her doctoral studies in just four years, the first in her class to finish. Harvard University was the next stop on her journey, where she focused her postdoctoral studies on immunology. In her spare time she trained through frigid New England winters to compete in the Boston Marathon not once, but twice. She embraced many new hobbies and continued to read voraciously, amassing a giant library of books.
After finishing her postdoctoral studies in 2004, Kerri accepted a position at The Scripps Research Institute in La Jolla where she continued her work in immunology. In 2014, she co-founded Padlock Therapeutics, whose mission is to develop drugs to treat people with autoimmune diseases. She joined Padlock full-time as the Director of Biology in January of 2016.
Kerri earned many accolades during her short life and she was an invited speaker at many academic and professional symposia. As a teacher and mentor to many students, she hoped to inspire the next generation of scientists. She also dedicated her time to raising awareness about the need for increased federal support of basic research.
During her lifetime, Kerri led by example. She promoted learning, worked to relieve the suffering of others and strove to create a world that future generations could enjoy. It would be her greatest honor to gift a scholarship that enables higher education of a worthy graduating senior at The Preuss School UC San Diego.
If you would like to make a gift in support of the Dr. Kerri Mowen Memorial Scholarship please click on the Give Now button below.
Give Now