Kelly Kovacic Scholarship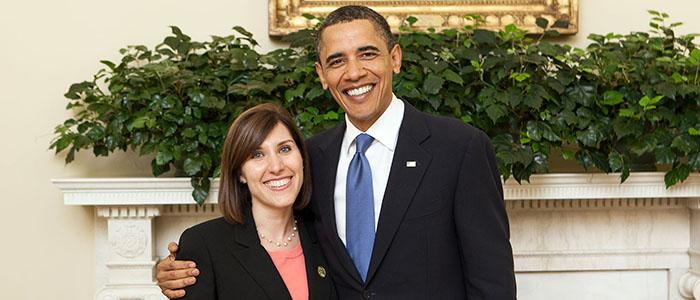 Kelly Kovacic with President Barack Obama at the 2010 National Teacher of the Year awards ceremony.
The Kelly Kovacic Scholarship honors an outstanding graduating Preuss student who is interested in pursuing a career in teaching. For 10 years, Kelly was an accomplished teacher and leader at Preuss, challenging her students to excel in the classroom and the community. Her courses included AP Government, AP U.S. History and Advisory. In 2010, while teaching at Preuss, Kelly was named the California Teacher of the Year and one of four finalists for National Teacher of the Year. A graduate of UC San Diego (B.A.) and Stanford (M.A.), Kelly left Preuss to pursue a doctorate in education leadership at the Harvard Graduate School of Education, which she received in 2015. Kelly is currently the Executive Director of Portfolio Management for Denver Public Schools, where she is in charge of the creation, authorization, accountability and strategic support of over 105 autonomous schools in Denver. Kelly's core values are informed by a desire to promote and sustain educational equity, rigorous curricula, effective classrooms, great teaching and talent development, collaboration, critical thinking, and ultimately student success, especially in under-represented communities.