Ticket to a Brighter Future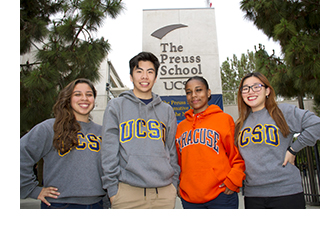 When Tatiana Jones begins attending Syracuse University this fall, there's one thing she won't have to worry about: the cost. That's because Jones is one of four seniors at The Preuss School UCSD recently awarded the prestigious Gates Millennium Scholarship, which covers all college costs for undergraduate and graduate education.
"Being a Gates Millennium Scholar has showed me that there are no limits to what I can accomplish in life as a minority," said Jones, who grew up in a foster care family with 13 other children. "I am so blessed to have received this honor and can now put my parents' hearts at ease knowing I will be able to fulfill my dreams of furthering my education with no financial burden."
Students at Preuss – a charter middle and high school for low-income students who strive to become the first in their families to graduate from college – are no stranger to the Gates Millennium Scholarship. In the past 12 years, Preuss has had 35 Gates Millennium Scholars. Jones and her classmates Kent Thai, Cristabel Otero Castaneda and Nghi Dang have now brought that total up to 39.
Read more about the accomplishments of the Preuss Class of 2016.